Hot Mix Asphalt
Asphalt Plant Location
118 Hump Road
Hagerstown, MD 21740
(301) 739-9814
Total Tons Produced (1981-2015): 6,742,774 tons
Total Tons Produced (1960-1980):
Current Plant Built: 1990
HMA Plant Description
Gencor Drum Plant – 300 ton/hour, with three storage silos each holding 200 tons.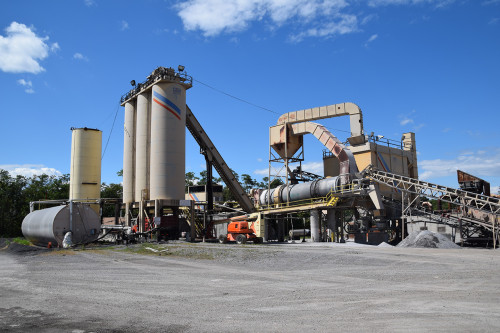 Previous Plants
White Manufacturing 1 ton Continuous Mix Asphalt Plant (1960-2013)
McCarter 2 ton Continuous Mix Asphalt Plant (1978 – 1984)
McCarter 3 ton Continuous Mix Asphalt Plant (1984 – 1990)
Craig Paving, Inc. utilizes Reclaimed Asphalt Pavement (RAP) in all our mixes. RAP allows us to reuse the liquid asphalt, which saves on costs and helps to create a more sustainable and environmentally friendly production method.
We are currently in the process of implementing Warm Mix technology into our existing facility, allowing us to produce high quality pavements using less energy. This also has the added bonus of reducing greenhouse gas emissions and our carbon footprint.
List of Large Tonnage Projects
Washington County Pavement Maintenance (2015): 25,362 tons
Car Max – Frederick (2013-2014): 8,870 tons
Mill, Patch, and Resurface Roadway Pavement at Various Locations in Washington County (2013-2014): 42,741 tons
Macy's Fulfillment Center: 22,973 tons
Robinwood Drive Corridor II Roadway Improvements Project: 21,548 tons
Washington County Pavement Maintenance (2013): 15,889 tons
Washington County Pavement Maintenance (2012): 16,803 tons
Mill, Patch & Resurface Roadway Pavements at Various Locations in Washington County (2008-2009): 26,643 tons
Safety and Resurface US-11 (2009): 14,245 tons
Washington County Pavement Maintenance (2011): 18,098 tons